Início do conteúdo da página
From Newsweek (April 30th 2001): In the dry badlands of north-eastern Brazil lies an oasis of rain and opportunity making everything from software to display
PARAIBA STATE: (56,470 km², 3,999,415 inhabitants) - is located in the Brazilian semiarid region (Northeast).

JOÃO PESSOA: Capital city – 801,718 inhabitants.

CAMPINA GRANDE: The second largest city with 407,754 inhabitants and economic center. (2700 km from São Paulo) - The second largest PhD density per inhabitant in Brazil (1/669)

BRAZIL: 8.515.767,049 km2
27 states, 210.125.665 inhabitants.
Timeline
1952: Polytechnic School of Paraiba in Campina Grande, Civil Engineering course.
1955: Federal University of Paraiba created in João Pessoa- the Capital of Paraiba - by a state law.
1960: Federal University of Paraiba – joining the existing university structures in the cities of Joao Pessoa and Campina Grande.
Singularity: While other federal universities in general have all their activities in one urban space, UFPB has developed a growing multicampi structure (seven campuses) in the cities of João Pessoa, Campina Grande, Areia, Bananeiras, Patos, Sousa and Cajazeiras.
1968: Campina Grande - Campus II of UFPB – was the first place in the north-northeast with a computer IBM 1130 (at the time, one of five in the country).
1975-1982: Very strong International cooperation in Campina Grande and new courses (undergraduate and graduate) are created.
April, 09 2002: UFCG was created from a division of UFPB: Campina Grande, the administrative center, and more 03 campuses (Patos-Souza–Cajazeiras).
UFCG toda: UFCG 2002 + 03 new Campuses (Pombal-Cuité-Sumé)
UFCG became a pioneer in the Northeast
For being the first federal university in the interior of the Northeast;
For owning technological centers of excellence within the Northeast;
For joining all the conditions to qualify the workforce to meet the demands of industry, services, state and local public sector, contributing to the region's progress.
UFCG is reference for the development of science and technology, education, arts and culture in the state and in the Northeast. Social inclusion and economic development of the region have always been highlighted in the projects and activities of the university. For this and other reasons, UFCG appears on the national scene.
Multi-Campi: 07 Cities
(Distance from Campina Grande)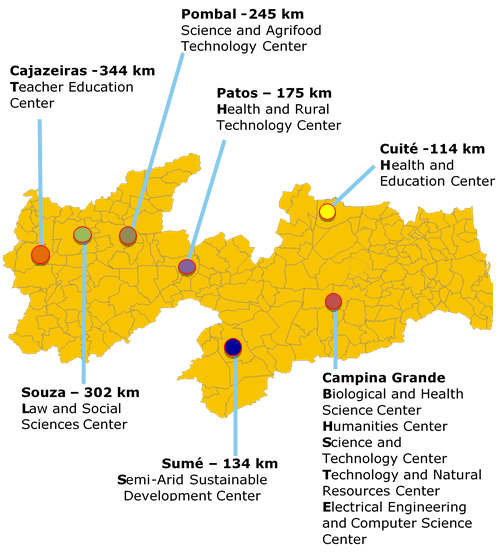 UFCG
07 Campuses - 11 Centers
1,488 Faculty members (936 PhD; 402 MSc)
1,467 Staff members
UNDERGRADUATE COURSES: 98
33 Engineering/Exact Sciences and Earth
44 Humanities
14 Biological Science and Health
7 Agrarian
19,000 Undergraduate students
GRADUATE COURSES: 12 PhD - 31 MSc
25 Academic
02 Professional
04 Network
1,933 Graduate students (1151 M | 782 D)
RESEARCH GROUPS: 218
Agrarian Sciences(32);
Biological Sciences(10);
Health Sciences(16);
Exact Sciences and Earth(22);
Humanities(53);
Social Sciences(32);
Engineering(43);
Literature, Letters and Arts(10)
Most of them actively involved in national and international research networks.
Research and Development Fields
ENGINEERING
Civil; Electrical; Chemical; Sanitary; Production; Materials and Metallurgy
EXACT AND EARTH SCIENCES
Mathematics; Physical; Geosciences; Computer Science; Chemistry; Probability and Statistics
HEALTH SCIENCES
Public Health; Nursing; Dentistry; Medicine; Pharmacy; Nutrition
AGRARIAN SCIENCES
Veterinary Medicine; Agricultural Engineering; Fisheries Resources and Fishing Engineering; Food Science and Technology; Agronomy; Forestry Resources and Engineering; Animal Science
LITERATURE
Literature and Art: Arts; Linguistics; Letters
BIOLOGICAL SCIENCES
Morphology; Biology; Genetics; Ecology; Zoology; Biochemistry; Botany; Microbiology
HUMANITIES SCIENCES
Sociology; Psychology; Education; Philosophy; Political sciences; History; Geography; Anthropology;
APPLIED SOCIAL SCIENCES
Communication; Management; Social Service; Economy; Law; Design; Architecture and Urbanism; Urban and Regional Planning
International Relations
Faculty members (PhD) from USA, UK, GERMANY, CANADA, FRANCE...
Tradition in collaboration with foreign universities: France, USA, UK, Spain, Germany, Portugal, Argentina, Canada, Australia etc.
International students, mainly from Africa (PEC-G and PEC-PG)
Undergraduate Students Mobility: More opportunities through Brafitec Program, Santander Ibero-Americano Program, Erasmus Program…
Graduate Students Exchange with France, USA, Germany, Portugal
Partner: HP, Nokia, Motorola, Microsoft, Samsung
Campina Grande Campus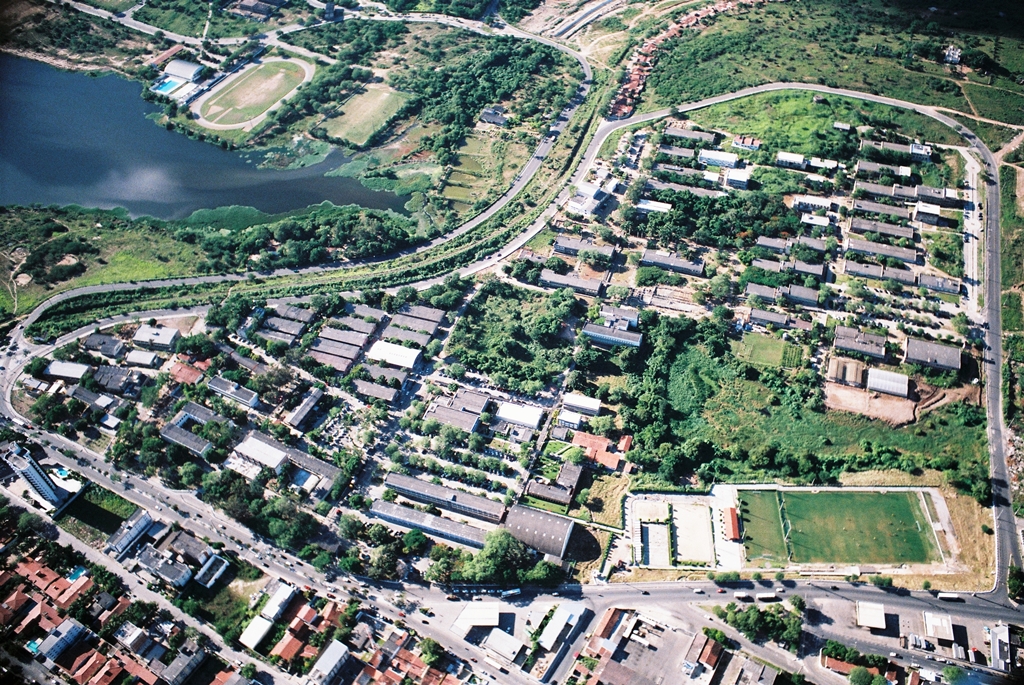 | | |
| --- | --- |
| Patos Campus - CSTR | Sousa Campus - CCJS |
| Pombal Campus - CCTA | Sumé Campus - CDSA |
| Cajazeiras Campus - CFP | Cuité Campus - CES |
Fim do conteúdo da página